A winter wonderland wedding. Snow on the ground, bare trees with ornaments, a background of pure white sparkle. For a countless amount of people, this kind of wedding sounds like the dream. And for a good number of other people, this kind of wedding, while it sounds nice, also sounds like a nightmare, all due to one simple facet—the temperature. Speaking as someone who absolutely loathes the cold, this wedding looks like something out of a fairy tail, but sounds like a nightmare. Lucky for myself and others who also hate the cold, there is a way to have that dream "outdoor" winter wonderland wedding, and also keep your fingertips from falling off.
The key is to turn your inside space into an outdoor space. Therefore, the first thing you're going to want to do is to book an open venue, one that gives you a lot of space to mirror what it would be like to be outdoors. I would even suggest something with a large window, porch, balcony, or atrium so that the frigid outdoors can still be a part of your special day.
Image via Pinterest
Image via Springwood
Image by John Labbe via Bridal Guide
Once you've found a suitable venue, the next step is to turn your space into the outdoors. I suggest going with nature decorations like pines and viburnum plants, then adding touches like white fluff or sparkles to mimic snow. These are perfect for centerpieces and hanging decorations. For a bigger venue space—and depending on your budget—you can even purchase fake trees to line your aisle or set around the perimeter of your reception. If you're not so much a nature person, then choose colors that embody the winter, such as white or soft blues. And if you're anything like me—love the winter aesthetic but hate anything cold—you should look about having heaters around your venue. This way if there are any open areas, or if the winter decorations give you the chills, there's still circulating heat.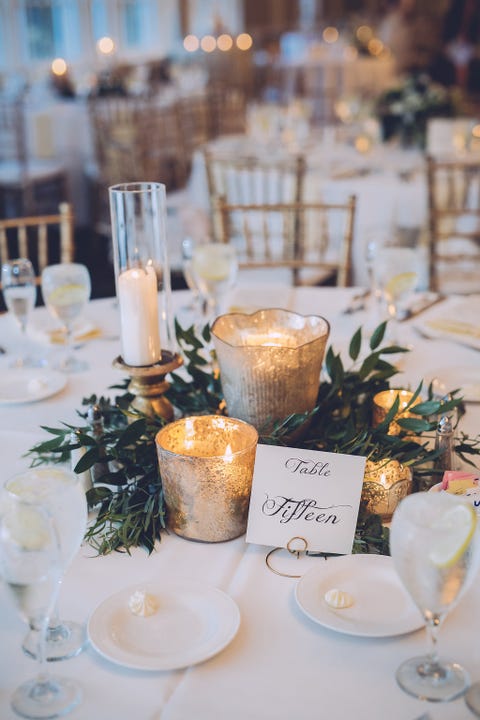 Images by Danielle Nowak Photography via Elle Decor
Images by Klaya Marie Photography via Eight Tree Street
To tie everything together, pick out a menu with fresh winter cuisine. Choose light refreshments, like a Blackberry Ombre Sparkler, to keep guests on their feet mingling with their other wintertime counterparts, or something like a Mezcal Saffron Eggnog to really warm the stomach when it goes down.
Image by Lisa via Mon Cheri Bridals
Image by Justin Driscoll via Brides
Follow it up with a savory salmon dish or a comforting beef Wellington, aside some sautéed vegetables. A simple menu that won't get lost in all the other intricate winter details, but a menu that features hearty foods to accompany such a temperate environment and won't make you or your guests fill sluggish for the rest of the reception.
Images by Mia via Happy Wedd
Your wedding day is your vision to create, whether you want it to be a slice of nature or a beautiful snowy wonderland. This is an outdoor winter wedding for those who hate the cold. In essence, the most important thing is fitting all the sentiments of winter into a space, and none of the temperature. There are a variety of ways to make this happen, a plethora of decorations and foods to bring your imagination to life. And while you're focused on planning your warm indoor winter, don't forget the cake. For every bit of décor sparkling around you, every item of delectable food, the cake is still a fundamental element. If you're sticking with the traditional white cake, I suggest adding some embellishment to it, not only to tie in your theme, but also to allow the cake to stand out on its own. Below is an example of a more traditional cake with delicate embellishments.
Image via Weddingomania
Good luck and best wishes to any summer lovers getting married in the winter. It's not always practical, but it is doable. It may not be your season, but it is definitely your time, and you will do what you need to make it one of the most memorable days of your life.